Starr Casas' Biography
I am a 56 year old Conjure Woman born in Kentucky. I've been a conjure woman all my life. I learned how to do this work from my momma and grandmomma who learned from their elders.

Conjure or what people now call Hoodoo has always been around. In my family we didn't call it Hoodoo. We simply knew this to be "Conjure" or "work."

I've been a Conjure woman for over 40 years. I first learned how to read playing cards at 16 and by the time I was 17 I was already doing spiritual cleansings or what some call uncrossing work. I also did healing work at this time. By the time I turned 25 I was doing work for the family but at that moment I knew it was time to start helping others. At that point I did Conjure work full time for folks that were referred to me by my relatives or by others who knew me. I always worked only by word of mouth until three years ago when it was time to share my gift of Conjure work on the Internet.


Susan Diamond Biography

Susan's earliest memories, starting at around age four, involve her grandmother teaching her how to do divination with a button on a string. On her 7th birthday her mother gave her her first tarot deck. Divination and Magic are Susan's passions and she has dedicated her life to magical and healing practices. Along the way, Susan earned a degree in Psychology with an emphasis on Biology, helping to facilitate her natural counseling, psychic, and healing abilities.
In a response to a desire to bring earth based spirituality & magic back to its roots, Susan started a professional business in the field and has had a magical arts shop for over 12 years. Her private practice of readings and spell work spans decades. Susan has also created a learning center for alternative faiths, cultural creatives, and magic so that others may learn and grow.
Susan is a tarot card reader, psychic consultant, astrologer, rootworker, shamanic practitioner, initiated Palera, energy worker, teacher, dream walker, and owner of Serpent's Kiss Magic Shop and Botanica, Crossroads Community Space, & Dancing Gypsy. She is a founding member of AIRR (Association of Independant Readers and Rootworkers), Co owner of 2hoodoos.com with Orion Foxwood, and one of the 5 members of Conjure Crossroads, facilitators of Conjure Con in Santa Cruz, and The Folk Magic Festival in New Orleans. She has extensive knowledge of crystals and herbs, reflected in many of her custom herb, mineral, and oil preparations, incenses, soaps, waters, sprays, mojo hands, and candles. She is the sole creator and distributor of Dancing Witch & Moon Garden oils, incense, candles, soaps and baths and creates the many items you find at her shop.
Susan was voted as the Best Psychic in Santa Cruz County 2012 by the local community, published in the Santa Cruz Weekly Goldie Awards.
Born at moonrise in November, Susan is a water baby with 4 planets in Scorpio, a Cancer Moon and Cancer Ascendant. A native New Yorker, Susan now lives with her life partner, Shimmering Wolf who is the designer of all her product labels, and web developer, their Wolf Dog and two cats in the Santa Cruz Mountains of California. In her spare time she is an avid foodie & chef. She plans and facilitates a co-creative fire circle, dance & drumming experience with her partner Wolf monthly in the redwood mountains of Santa Cruz.
Sindy Todo Biography

I was born March 1952 (Pisces) a truly watery gal, in a small refinery town on the gulf coast of Texas on the very border of Louisiana. My ancestry is half Lebanese and French Cajun (with a bit of Spanish and who knows what else in there). An art major in college, then a driving manager I have always been in service to people in every career I've ever had from food and beverage to antiques and chocolate. I moved to Seattle, Washington in 1986, re-uniting with the love of my life.
At the turn of the millennium I started a home based personal and business Management Company for a handpicked clientele of around 13 individuals and small companies. My clientele is mainly entrepreneurs and creative talent who are great visionaries and experience great success. This business continues today and offers a very grounding element to my life.
Orion Foxwood Biography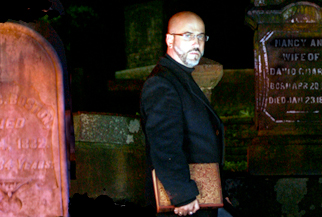 Born with "the veil" (a localized term for the second sight) in 1963 in Winchester Virginia, an area located in the Shenandoah Valley in Virginia that is rife with folklore, ghost tales, folk magic and lore. His father was part Lakota Native American and his culture is Southern and Appalachian. His mother was born in a slave quarter on a plantation called "The Hollingsworth Place" in 1934 where a freed slave affectionately known as "Miss Granny" was both her midwife and spiritual God-Mother. All of these distinctive elements formed the foundations of his cultural spirituality and magical practices as a teacher of "veil" practices that focus on spirit work and conjure.

Orion is a Conjurer in Southern Root Doctoring Practices, A Traditional Witch, An Alexandrian Wiccan High Priest, An Elder and Mantle Carrier for an Old Religionist Craft Lineage, And Faery Seer. He holds a masters degree in Human Services.